PROFESSIONAL

TILES GROUT CLEANING, POLISHING, RESTORATION

AND SEALING SERVICES IN SAHRJAH, DUBAI, UAE
AMAZING RESULTS GUARANTEED
If you're looking for Professional Tile Cleaning, Grout Cleaning & Polishing service then look no further than A to Z Maintenance Services
Is your floor driving you crazy? and no matter what you do, you can't get it clean.
Are you sick of scrubbing and trying everything under the kitchen sink?
We Can Help! Even with the toughest of stains, dirt, grease and grime.​

What does cleaning entail?
Our professional hard floor cleaning service entails deep cleaning of your tiles and grout restoring them back to their original condition. We use different professional grade machines and techniques depending on the type of surface to be cleaned. We guarantee you'll be amazed at the results.
Below is a before and after example of Travertine floor tiles and grout we have restored.
Tumbled Travertine is one of the hardest natural stone surfaces to clean, as it has thousands of
Natural Stone Floor Tile Polishing
We can revive your Natural Stone Floor with our mechanical diamond polishing machines. Our polishing process guarantees outstanding results that will last for many years to come. We can remove scratches, scuffs, etching, stains, cup rings & heat damage.
Below is a before and after example of a Marble floor that we have highly polished.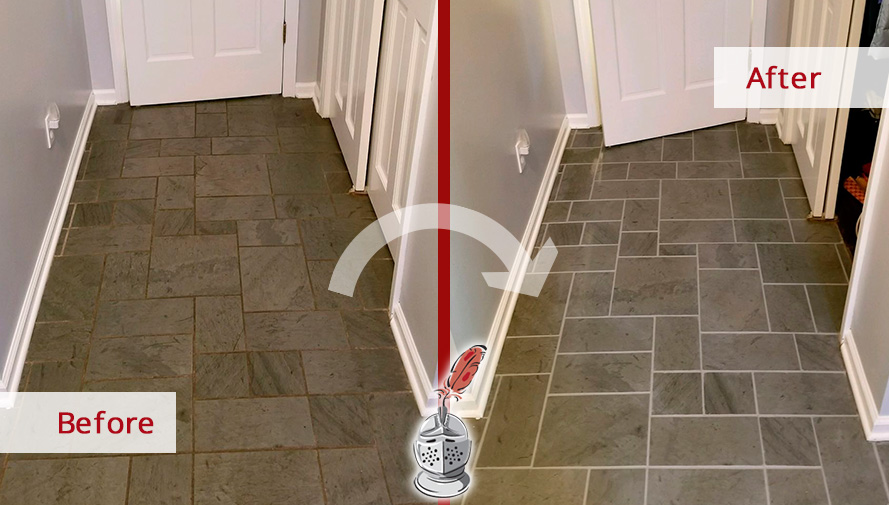 Tile & Grout Sealing?
With our professional sealing service, we can protect your floor tiles and grout with a 10 year guarantee against stains, water, oils, grease, dirt and grime. Sealing also makes it much easier for you to regularly clean your floor as the sealer stops the soiling from penetrating the tiles and grout. We highly recommend this service for all unpolished or textured Ceramic, Porcelain, Victorian, Quarry, Terracotta & Concrete tiles.
The benefits to our professional tile and grout cleaning services include:
It can help extend the life of floors by removing debris that can weaken the tiles
It helps you avoid the expense and business interruption of completely replacing tile floors
We clean ceramic, porcelain, limestone and travertine tile and specialize in offices, lobbies, restrooms, kitchens, hallways and other tiled areas of a commercial property
Our sealing product helps maintain the cleaned grout for months and allows your maintenance cleaning to be more effective
A to Z Clean has been providing an unparalleled level of clean for more than 8 years. Our research and development team works to ensure that we are using state-of-the-art products and processes to restore your tile and grout. Whatever your industry -- healthcare, education, government, hospitality, property management, retail, manufacturing and more – A to Z Cleaning can improve your business environment. We're committed to your satisfaction. Nothing less will do.
What to expect with our service?
Step 1:  A technician will conduct a preliminary inspection of your tiled areas to determine the best cleaning method and identify heavily soiled and high-traffic areas.
Step 2:  Spots and stains will be pre-sprayed using state-of-the-art cleaning products.
Step 3:  The technician uses shielded high-pressure cleaning and extraction to remove dirt and ground-in soil. This cleaning method also provides a clean-water rinse and extracts excess water.
Step 4:  Care is taken to clean near all corners and baseboards.
Step 5:  All tiled areas are thoroughly dried.
Step 6:  The technician seals all grout lines to preserve cleanliness and prevent long-term damage. (This service is optional.)
There are several steps your company or your cleaning contractor can take to preserve the cleanliness of your tile floors, which include:
Vacuum or sweep floors before mopping to remove as much dirt as possible, especially dirt that has settled into the grout
Mop tile regularly with a neutral cleaner. Rinse the mop in fresh water after mopping a small section. Then, remove excess water from the floors by mopping with a dry mop
Clean spills quickly to avoid staining floors
Avoid scratching and scraping your floors with actions like dragging chairs or furniture. Scratches and cracks in the floor easily capture dirt
Don't use finish wax, ammonia-based cleaners or bleach that can damage floors
To properly maintain your tile floors, vacuum or sweep and mop them regularly, as well as spot clean when needed. To keep your floors looking their best, we recommend a professional commercial floor cleaning every year, depending on the amount of traffic, soil and regular floor maintenance.
Tags: Tiles cleaning sharjah, grout cleaning sharjah, tiles and grout cleaning dubai, tiles grout cleaning sharjah, tiles polishing dubai, tiles polishing sharjah, floor polishing dubai, floor polishing sharjah, floor deep cleaning dubai, floor cleaning sharjah, floor cleaning polishing dubai, floor cleaning polishing sharjah, tile scrubbing service dubai, tiles scrubbing service in sharjah, tile cleaning sharjah, tile cleaning sharjah, floor tiles cleaning dubai, floor cleaning polishing dubai, floor deep cleaning services dubai